Welcome back everyone! I hope you are all having a great week! It's almost over--we're almost there! So far we've had lots of fun things happening around here. Just a normal, lazy week with no drama. Ahh...so nice.
It was wonderful to see you all here last week! We had some great projects linked up and I'm excited to see this weeks as well! Here was the most clicked on link....
Artsy VaVa's
(the name alone makes me smile) beautiful turqoise chair. Love this fabric! Who wouldn't want to sit here??
I hope you guys can visit some of the links here and be sure to comment! Oh, and if you could use my link party button on your link page or at the bottom of your post (if that's what you do), I would LOVE you forever!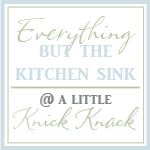 Have fun!