Hey all! Remember my lovely guest blogger, Kimm, from Reinvented? Well, she and did a little swap and I wanted to share what I sent over to her neck of the woods...or cyberspace....anyway, I hope you enjoy!
**************************************************
Hi Everyone! I'm so excited to be here at Kimm's blog, Reinvented! Hers was on of the first blogs I started following when I even discovered craft blogs many moons ago. I always find her stuff amazing, creative and informative. It's awesome to be here.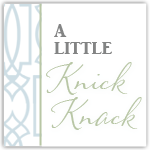 My name is Meg and I have a little corner of cyber space called
A Little Knick Knack
. I started blogging almost 3 years ago now, in order to find some sanity in my chaotic life of 4 kids. I love to post my little crafts, have others come for a visit post, and I also host a link party every Friday called
Everything but the Kitchen Sink
. I hope you can join!
Ok, on to my little tutorial....
Keeping track of little girl hair doodads is a pain. And I have 3 girls! So, I'm always on the lookout for something helpful to organize all the bows, ribbons, elastics and headbands. I saw this project sometime ago (like a couple of years) and finally worked my way through my huge Quaker Oats canister and thought I would give this a try. It was super easy and my girls love it, so I consider this a win-win.
First, grab your Quaker Oats container (empty, preferably. But, if you're trying to find a way for food storage use, I suppose this would work full as well...).
Then, grab your scrapbook paper, some scissors and your Elmer's glue, or whatever type of glue you might have on hand.
I also grabbed these decorative finials, which you can purchase at Lowe's...
...or these small ones at Michael's. The great thing about both of these are the screws at the bottom, making them easy to attach to a lid or really, anything.
Next, and this step is optional, find something to elevate your container. I found this yellow candlestick holder hanging out (with no candle) in my kids bathroom and decided it would do the trick. I used Monkey Glue to attach it to the base and then waited for it to dry before attaching the scrapbook paper.
Then it was the simple matter of tracing the container on the paper, cutting, gluing and also covering the lid. I painted the finial and then screwed it through the lid.
TIP: Find a wood circle at Michael's or cut one out yourself, that would also fit the top of the container (simply sitting on top of the Quaker Oats opening), and this makes easy access to the inside of the container, as storage for the bows, elastics, etc.)
It came together really fast (also a project plus for me) and was also FREE, since I just used what I had at home. And now the headbands are all in one easy to access place (instead of under beds, scattered in bathroom drawers or even in the kitchen for some strange reason).
It also makes a cute little decoration in my kids bathroom. Always an added bonus!
Well, thanks for checking out my little tutorial! I hope you can stop by
A Little Knick Knack
and say hello there as well. Have a wonderful week!