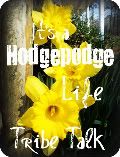 I am going to participate in this Link party today! The purpose of it is to link 5 blogs you enjoy and hopefully introduce people to new blogs, ideas and fun! Here are my 5:
1.
My Little Gems
2.
Northern Cottage
3.
Cabinessa
4.
The Little Green Bean
5.
Vintage Simple
I hope you enjoy them as much as I do! Come back again!